x
About Pizza Clicker 2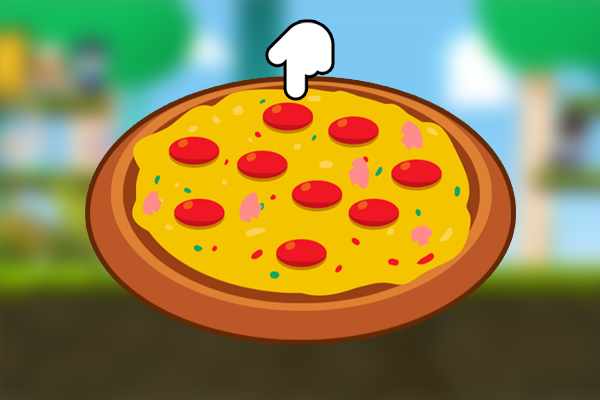 Clicker restaurant's ready to serve great pizzas in Pizza Clicker 2. Make millions of pizzas to meet customers' demands and expand the pizza restaurant.
This game has the main theme of pizza. This will be a game suitable for pizza lovers. Here you will see a large pizza. It has many ingredients such as sausages, sauces, onions, etc. It can do you water mouthing. This game was released in August 2014. Although it has been released for a long time, this game has still received many people's love. In particular, it can also be played on desktops or phones with HTML5 technology. Let's make lots of pizzas.
How to make pizza in Pizza Clicker 2
You have probably played the Cookie Clicker game where you just click to create cookies. In this Pizza Clicker 2 game, you will do the same thing. Click to bake the pizzas. In addition to manual clicking with the mouse, you can use automatic hands. They will automatically touch the large pizza to create small pizzas. Each hand can only produce 0.2% of a pizza per second. So you need 5 hands to get 1 pizza per second. The more hands you have, the more pizza you can make. In addition, you can also add toppings for pizzas such as eggs, pork, fish, etc. This will make the pizza-makings more productive. You have to click on these items to produce, so a manager is important.
Be careful with thieves
Every 5 minutes, a thief appears. They will steal your pizzas. Don't worry, you can click 3 times on the thief to catch him. He will then have to return what they stole and add 5% of the pizza they stole. Another way to catch thieves is to hire security guards. Once you hire enough guards, these thieves will no longer be a problem.
Buy some items and hire staff
There are many useful and interesting things in the store of Pizza Clicker 2. You can hire security guards or chefs here. The starting price of a chef is 15 pizzas. Each time you hire a chef, the price will increase by 15% compared to the previous price. The same goes for hiring security. The starting price of hiring a security guard is 175,000 pizzas. After that, each hire price will increase by 20%. In addition, you can also build more buildings like shops, factories, etc and grow more plants like wheat, sugarcane, tomatoes, etc. Raise more animals such as pigs, chickens, and chickens to enrich the pizza's topping. Remember, the more expensive objects and employees are to rent, the more benefits they will bring to you.
Sell ​​items in this clicker game
Besides buying things, you can also resell the items you have purchased. However, selling this item will make you lose capital. For example, you buy a hand for 49,000 pizzas and you will only sell it for 24,000 pizzas. That way, you can only get 50% of the purchase price back. Therefore, selling items is not recommended in this game.
Control: Use the mouse to play.
Contact us with e-mail [email protected]