x
About Bread Clicker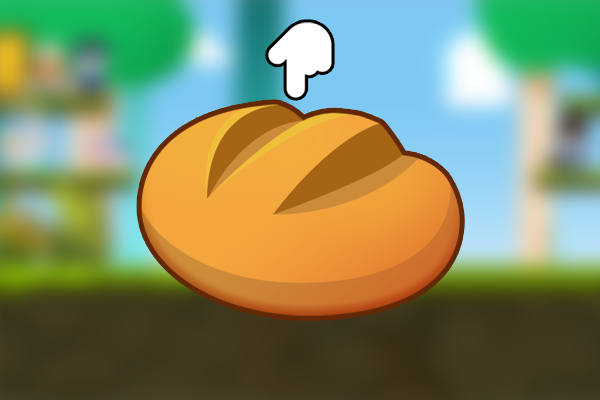 Play Bread Clicker to relax your mind! This game is a clicker game for idle players. Grow your bakery with many support items and hire police and chefs.
Bake bread without interigants
Delicious bread is being baked in Bread Clicker. You don't need an oven or flour to make bread. All you need to do is left-click. It sounds strange, but it's true in this game. First, you will be offered giant bread. This huge bread can make smaller bread with one touch. This will be a favorite game for bread lovers. How about you? Do you love delicious bread?
Scenes in Bread Clicker
In the game, you will see a large bread in the middle of the screen. This is the magic bread that will create many other breads. Around the bread there will be chefs, policemen, etc. However, to begin with, your bakery will have nothing. You need to accumulate enough bread to hire chefs, police and buy necessary supplies. What makes this game so interesting is that the sun will move just like in real life.
Discover the mechanics of Bread Clicker
You will see a Bread Clicker game with similar gameplay to Cookie Clicker. Your task will be to create as much bread as possible. Here, you will use bread to buy things instead of money or coins like in other games.
Click for baking bread
You will click on the big bread in the middle of the screen to get bread. But if you just have to click like that to get small bread, this will not be an idle game anymore. That's why you can buy more hands at the store. These hands will help you click on the bread automatically. The more hands you have, the more bread you can bake a second. You can buy more support items like wheat, sugarcane, etc. They will make the bread production more efficient.
Catch the thieves
What makes this game unique from other games of the same genre is the thieves. That's right, you're not mistaken. Thieves will appear in this game. They will steal your bread. However, if you detect and catch them then you can get the bread that was taken back. Moreover, they will have to compensate us 5% of the stolen household items. Thieves will appear when there are plants like Wheat and sugarcane. These thieves will appear every 5 minutes. They will favor stealing from your crops and unprotected places.
Features of some items and staff in Bread Clicker
Chelf: Assist in improving bread's quality.

Guard: Reduce thieves and increase work efficiency.

Sugarcane: actively generate sugar and increase profits.

Cow: actively creates butter, milk, cheese

Thife: Appears for a minute and then disappears. They will steal 10% of the total output every second. But if you catch them then you will get back 15% of the total lost production

Factory: help improve sales speed as well as quality

Mines: increase the quality of the cake to perfection

Store: help sell more cakes

Manager: helps production and business be more efficient.
Game control: Click the left mouse to play.
Contact us with e-mail [email protected]