x
About Pie Clicker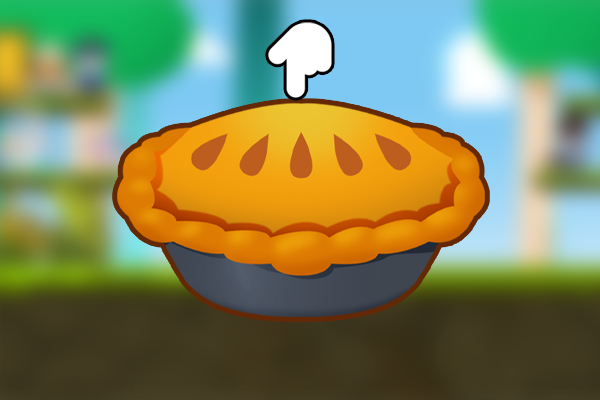 What is a pie? It is a food made with meat, vegetables, or fruit covered in pastry and baked. The pies are very delicious. How many pies have you ever seen? In this game, you will create millions of pies. Don't be so surprised because creating thousands of pies is very simple in Pie Clicker. If you've ever played Cookie Clicker, you will surely get familiar with the rules of the game quickly. The game will bring you great moments. With lovely graphics and simple gameplay, anyone can play this game. Although this game does not require high skill, you must have enough patience. Playing this game can exercise their patience.
At the beginning of Pie Clicker
When you start the game, you will have nothing but a big pie right in the middle of the screen. You will build your store from this pie. You will have to click repeatedly on the pie to make it produce a lot of small pies. Once you've got a certain number of pies, let's buy the hands in the shop. They will automatically touch the large pie to create small pies. Now you don't need to click manually anymore.
What you should do when owning auto hands
Try your best to buy as many hands as you can. Then, they will help you bake lots of pie. However, don't just pay attention to the automatic hands. You must buy more plants like wheat, sugarcane, onion, and potato. Besides the trees, you should also raise animals such as cows and goats. Fill your bare land with plants and animals.
After having some certain plants and animals, let's build some structures
Pie Clicker offers some structures such as factories, mines, and stores. You have to spend lots of pies to build them. Then, they will help you enhance the pie quality and production. As the same as auto hands, get as many structures as possible.
Hire some employees in Pie Clicker
In the shop, you don't only find out some useful items. You can also hire staff here. What are they? There are three positions which are chief, guards and manager. The cheapest hire is the chef and the most expensive is the manager.
All items and staff in the shop will increase from 15%, 20%, 25% or even 30% for each purchase. Therefore, you need to make the right buying choice. Hope you have a relaxing time!
Save the game and reset Pie Clicker
This game allows you to save your progress automatically. Therefore, you can continue your progress unless you delete your browser cache. Besides saving, you also can reset the game. It means you will delete all your progress and restart the game. We suggest that you shouldn't reset the game. If you don't like any items or objects, you can sell them without resetting the game. It may take a lot of time to recover what you delete.
How to control: Use the mouse to play this game.
Contact us with e-mail [email protected]