x
About Pancake Clicker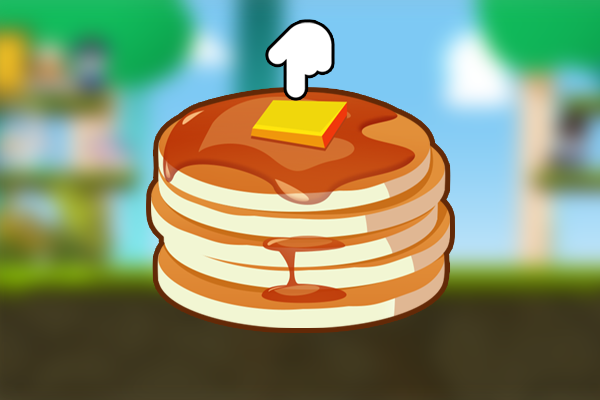 Have you ever thought that pancakes can be used to buy items instead of money? Now, this has become the gameplay in the Pancake Clicker game. Here, pancakes are used as coins or gold in other games. You can buy anything in the store with pancakes as long as you have a sufficient number of pancakes. Like in Cookie Clicker, make lots of pancakes. From 0 pancakes up to thousands or millions of pancakes. This will take a long time, so be patient. Besides clicking the mouse, you also need the help of employees, plants, and buildings. Use the pancakes you got to exchange for the above helpful items. The more of these, the faster your cake-making will be. Hope you will enjoy this game.
The big cake in Pancake Clicker
In this game, you will own a large pancake in the middle of the screen. You can see the pancake with an iridescent golden colour and it has many layers of cake. This cake is covered with an extra layer of sauce and right on top of it is a small piece of cheese. At first glance, it will make you want to take a bite.
This is no ordinary pancake, it's a miracle cake. You can make thousands of mini pancakes out of it. Sounds strange, doesn't it? So you should try this game to experience it. You can click the left or right on the cake. With every click, you get a pancake.
How to control
You can use the left mouse or right mouse to buy, sell and create pancakes.
The rules in Pancake Clicker
When playing the game, you can observe information such as how many cakes you have or how many cakes you make per second. These statistics are on top of the giant pancake. Buy useful items at the shop located below the giant cake.
You should keep in mind that the more items you buy from the store, the more pancakes you will produce per second. Because the items will improve the quality as well as the quantity in the baking process. Buy and grow plants in the store like wheat, and sugarcane. They are the main ingredients to make pancakes. In addition, some plants such as banana, mango, blueberry, strawberry and apple will provide some decoration for pancakes. Increase productivity by building more factories, mines and stores. To improve quality as well as productivity, you need to hire more security guards, chefs and managers.
In particular, the guard will help you catch the thieves. These thieves will appear every 5 minutes and they will disappear after a minute. They will take away your pancakes. You can also catch them yourself by tapping the thieves 3 times. They will then have to return the cake they took and pay an additional 5% of the cake. Besides buying, you also can sell the items you got, This feature can be found in Cookie Clicker. When selling objects, you only get a 50% purchase price.
Contact us with e-mail [email protected]