x
About Macaron Clicker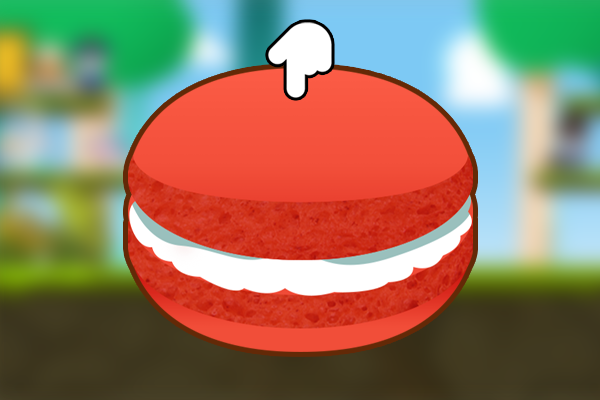 About Macaron Clicker
Have you ever tasted wonderful macaron? Not only do they look attractive, but they are also tasty. In this game, the Maracon cake will be the main theme. You will have to create a lot of Maracon cakes. You will use the big Maracon to make a lot of small macarons. This mission will be much easier than driving or shooting missions. This game is a favourite game of those who like peaceful gameplay. Are you one of them? If yes, what are you waiting for? Let's play the game now.
Explore the macaron world
In Macaron Clicker, you will be transported to the world of macarons. Why is that? Because here you will see a giant macaron. It is the machine that produces millions or even billions of macarons. Macaron has many colours but it is eye-catching red macaron in this game. Between the two layers of cake is white butter. From that, you will see a delicious macaron. The surrounding scenery is also designed lovely. You can see the sun and the trees around. There will be four steps and you can use them to plant trees and raise animals. Another special thing in this world is using macarons to buy things. There will be no gold, cash, or diamonds here, the number of macarons you create is money. The sound of the game is the song of birds that will bring you a sense of peace. Even the sound effect also linked with each click. This small thing also makes the game more attractive. So, let's discover this exciting world.
Each step to be a millionaire of Macaron world in Macaron Clicker
In the beginning, you will have to click on the big macaron to make other macarons. When you own 15 macarons, you can buy the first hand which can touch the Macaron automatically. Each hand only make 0,2% of a macaron, so you need 5 hands to make a completed macaron. The more hands you have, the more macarons you get.
Hire chefs and grow plants
Next, you should hire chefs to improve the cake's quality. After that, you should grow some plants such as Sugarcane (a Natural Sugar source), Cacao(one of the most popular ingredients in the macaron Manufacturing Process), and Blueberry (a decorative finish of the Croissant Manufacturing Process).
Build structure and hire guard and manager
Then, you can buy some factories, mines or stores. They will help improve your manufacturing process and sell your macaron over the world. Don't forget to hire guards who will protect your items from thieves. The manager will manage your store. However, he will work for 1 minute and relax for 5 minutes. Therefore, you should hire as many managers as possible. It isn't a simple task because the first price of hiring a manager is 999,999,999 macarons. This price will increase for each buy.
Some characteristics of this game
The impressive graphics

Easy gameplay and simple control

Idle game for everyone, even children. You also can ẹnoy another idle game which is

Cookie Clicker

.
Game control: use the left mouse or right mouse to play this game.
Contact us with e-mail [email protected]