x
About Coffee Cake Clicker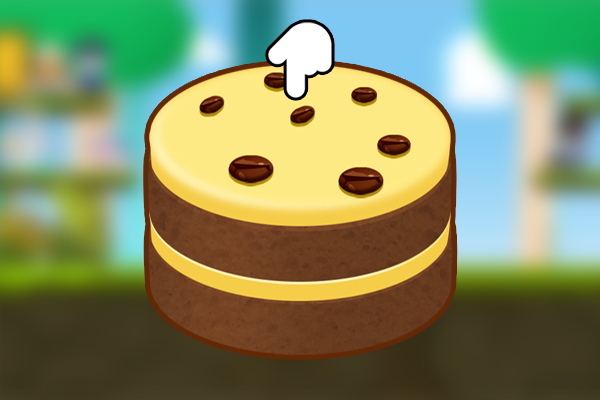 Many people in the world like coffee cake. It does not only have a beautiful appearance, but it is also very tasty. Now, you can access billions of coffee cakes in Coffee Cake Clicker. You don't mishear, you can make billions of coffee cakes. Of course, you can't immediately create thousands of coffee cakes. Therefore, it also takes a lot of time to own billions of cakes. The game has a simple mission which is to produce as many coffee cakes as possible. You can use the help of the items such as factories, mines, plants, etc. Moreover, the employees also affect the production process. Not only a large cake can produce small cakes, but other tools can also do it. However, the main source of production is still the large cake. Let's cover each part of the space with plants, animals, structures and employees. In case, you are bored with coffee cakes, you can give Cookie Clicker a try.
FAQ
Can I play this game on my tablet?
Yes, you can play it on smartphones, tablets and computers.
Does Coffee Clicker end?
No, it is an endless game.
Can children play Coffee Clicker?
Yes, it is for everybody.
What is the benefit when playing this clicker game?
You can exercise your patience.
Can I sell things I bought in Coffee Clicker?
Yes, of course. However, you only get back 50% of the purchase price.
How to control
You can use the left or right mouse to play the game.
Each item and employee in the shop have different roles
Hand: you can use these auto hands to click on the big coffee cake automatically. From that, you don't need to click continuously.

Chef: the quality of cakes will be enhanced thanks to these chefs.

Wheat: Produce one of the main ingredients for making coffee cakes is wheat. Therefore, this is necessary to plant.

Sugarcane: give natural sugar every second. The coffee cakes will lose their sweetness without this ingredient.

Coffee: Growing coffee beans every second. This is one of the Flavors in the Pie Manufacturing Process. Therefore, this plant can lack. The first price is 1,792 cakes, an increase of 15% each time. Increase 13.03 cakes per second.

Strawberry: Growing Strawberry every second (a decorative finish of the Croissant Manufacturing Process). Natural Sugar source, as a decorative finish for making cakes. The first price is 2,401 cakes, an increase of 15% each time. Increase 17.46 cakes per second.

Cock: Spawning egg every second. Eggs also are important ingredients in making coffee cakes. The first price is 15,802 cakes, an increase of 15% each time. Increase 46.19 cakes per second.

Guard: With the protection of the Guard, the number of appears of Thief will decrease and enhance working performance. The first price is 175000 cakes, an increase of 20% each time. Increase 1% in total output per second.

Factory: The speed cake manufacturing process is faster.

Mines: Enhance the quality of bread to perfection.

Store: Selling your Bread to all the World.

Manager: your business will be developed thanks to them. However, they only work for one minute and stop for 5 minutes.
Contact us with e-mail [email protected]