x
About Cookies Clicker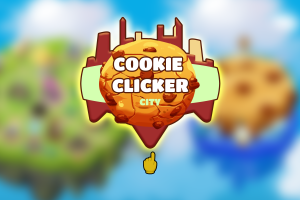 Also makes cakes but in a more upgraded version. As casual baking games become less popular, one-click baking games are becoming more and more. Cookies have never been so easy to make. Cookie Clicker will provide amazing cookies and a cookie city.
Explore the city of cookies
As soon as you enter the game, you will be surprised to see two islands floating in the air. Of course, they are not normal islands. They are the cookie city. Sounds strange, doesn't it? They are called "Cookie City" because cookies are used as money there. You can use cookies to upgrade and refurbish your city. This is definitely heaven for the crazy fan of cookies.
Expand the cookie city
One of these two islands will have a giant cookie. At first, this island will be barren and devoid of any trees. However, after you have made a lot of cookies and unlocked some achievements, the island will be covered with plants. The second island is where you build some constructions to make cakes. Of course, in the beginning, the island will be empty. Then you will use the cookies to enrich the island. The graphics of this game is awe-inspiring. You can see the clouds floating or the sun. Sometimes, the sun does not appear like in real life.
Cookie Clicker's simple gameplay is suitable for everyone
You don't have to go through the process to make cookies. Here, you will only need to left-click on the giant cookie to create many small cookies. You are too tired to click continuously. In this game, you don't even need to click on the cookie to create more cookies. It is thanks to the help of the cursor that can automatically touch the cookie. The more cursors you buy, the more cookies you get. Don't forget to upgrade the cursor so that every touch is many times more effective.
Not only touching the giant cookie can create cookies. All buildings like farms, mines, factories, etc can produce cookies. You can even hire grandmothers to make cookies. Ladies and buildings can all be upgraded to work more efficiently.
When playing the game, you can observe the current amount of cake you have on the side of the giant cookie. In addition, you can also see how many cookies you make per second. This number will show up just below your total number of cakes. Remember, just because you don't click doesn't mean you won't do anything. Hurry up to buy the necessary upgrades and items to build a strong city. Items will not be clearly visible if you can't afford them.
Some useful things in the Cookie Clicker game
There are a total of five different development eras and you have to create as many cookies as possible in Cookie Clicker. From that, you can take your city to the best era. You have to build 18 structures such as a factory, farm, mine, etc to level up your city and raise manufacturing efficiency. This game has 600 upgrades and 700 achievements to accomplish.
Upgrades, items and achievements in this game
The upgrades will help you power up your items. For instance, your factories are twice as efficient when you buy sturdier conveyor belts. Or cookie production multiplayer +1% with sugar cookies. Although these items are very helpful, they aren't cheap. You can see the starting price of them is very cheap at only 15 cookies. But when you next time, the price will increase 15% from the starting price. Don't worry too much when your number of cakes will also increase with a huge number. When you complete an achievement, another milestone is remarked. These achievements will be from easy to difficult. For example, the easy milestone such as baking 100 cookies in one ascension, baking 1 cookie per second can be done soon. However, some challenges such as baking 1 million cookies on ascension, baking 100 cookies per second, etc will take a lot of time.
How to save the progress of the Cookie Clicker game
You own a huge number of cakes. You worry when you exit the game, whether the game progress will be kept or not. Don't worry because every 60 seconds the game will automatically save. If you are still not sure about this, then you can go to settings and save it manually. Note for you, do not click the Wipe save button because it will erase your entire game progress including achievements. Hope you will be king of the cookie world and have a great time!
A few notes when playing this Cookie Clicker game
Cookie Clicker allows you to enable or disable game sounds.

If you're busy, the cookies still increase thanks to your cursors and structures to bake automatically cookies. But remember to buy as many cursors and buildings as possible.

Always upgrade useful items for maximum effect.

This game is suitable for everyone. Play a game where you don't need to use any mastery skills. From there, your mind will be relaxed after a hard-working day.

The upper left corner of the screen are icons with the meanings of building, upgrade, achievement and setting, respectively.
Simple game control: Just click the left mouse to play.
Contact us with e-mail [email protected]